Header Photo: Carolyn Drake
​Ira Glass on the Creative Process​
John Berger "Ways of Seeing" (1972)
​BBC four-part television series of 30-minute films created chiefly by writer John Berger and producer Mike Dibb. Berger's scripts were adapted into a book of the same name. The series and book criticize traditional Western cultural aesthetics by raising questions about hidden ideologies in visual images. The series is partially a response to Kenneth Clark's Civilisation series, which represents a more traditionalist view of the Western artistic and cultural canon. A BAFTA award-winning BBC series with John Berger, which rapidly became regarded as one of the most influential art programmes ever made. In the first programme, Berger examines the impact of photography on our appreciation of art from the past.


Laurie Anderson "A Life of Storytelling"
​Listen to the story of how Laurie Anderson became the iconic multimedia artist she is today, why she prefers to keep things simple, and how she began telling stories as a child – and never stopped: "I try to make stories that really engage my mind."
Laura Wexler - "Artist lecture" Thursday, March 19, 2015 (​California College of the Arts, Pier 24)
Photography Logbooks and the Creative Process
Photographing People on the Street - Street Notes (Eric Kim)
Judith Joy Ross Interview - Mystery of Making Images
Powered by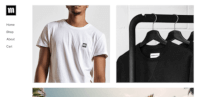 Create your own unique website with customizable templates.